NATIONAL CADET CORPS (AIR WING NCC)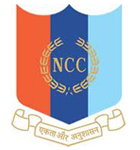 Our Motto : Unity & Discipline
Air Sqn NCC was started in our school in 1969. Over than 4000 cadets were trained by our troop.
The Officers
Chief Officer Nagasundaram N 1969 – 1979
Chief Officer Paulraj S 1979 – 1999
Chief Officer Zumbro N Ebenezer JP 1999 – 2020
Third Officer Manikandan S 2020 –
Our Aim
1. To Develop Character, Comradeship, Discipline, Leadership, Secular Outlook, Spirit of Adventure, and Ideals of Selfless Service amongst the Youth of the Country.
2. To Create a Human Resource of Organized, Trained and Motivated Youth, To Provide Leadership in all Walks of life and be Always Available for the Service of the Nation.
3. To Provide a Suitable Environment to Motivate the Youth to Take Up a Career in the Armed Forces.
Director General of NCC Lt. Gen. Gurbirpal Singh, AVSM., VSM.,
Directorate
TN, P & An Dte, Fort St George, Chennai.
Deputy Director General
Commodore Atul Kumar Rastogi
Group
Rock Fort Trichy NCC Group
Group Commander
Col C Ilavarasan
Unit
3 (TN) AIR SQN (TECH) NCC, TRICHY
Officer Commanding
Wg. Cdr. Abhishel K Mittal
Troop
17 Junior Division Air Wing Troop NCC
Troop In charge
Mr. D. Ramesh, M.Sc., M.Ed., M.Phil., Headmaster

Troop Commander
T/O Manikandan S
Cadet Strength
Camps
Combined Annual Training Camp (CATC)
National Integration Camp (NIC)
Trekking Expedition
Cycling Expedition
Advance Leadership Camp (ALC)
Army Attachment Camp
Community Developments / Social Activities
Pulse Polio Rally
Anti Tobacco Rally
Tree Plantation
Environment Pollution Control Rally
Anti Dowry Rally
AIDS Awareness Programme
Training Schedule
40 parade per year @ 2hrs per parade
Annual Range Classification (Firing With .22 Riffle)