NATIONAL CADET CORPS ARMY WING NCC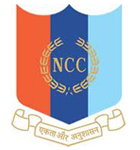 Our Motto : Unity & Discipline
Army NCC was started in our school in 1996. Over than 1600 cadets were trained by our troop.
The Officers
Second Officer R. Victor Kalaikathir Selvan 1996 – 2000
Second Officer R. Prabhu 2000 – 2006
First Officer R. Ramakrishnan 2006 to till date.
Our Aim
1. To Develop Character, Comradeship, Discipline, Leadership, Secular Outlook, Spirit of Adventure, and Ideals of Selfless Service amongst the Youth of the Country.
2. To Create a Human Resource of Organized, Trained and Motivated Youth, To Provide Leadership in all Walks of life and be Always Available for the Service of the Nation.
3. To Provide a Suitable Environment to Motivate the Youth to Take Up a Career in the Armed Forces.
Director General of NCC Lt. Gen. Gurbirpal Singh, AVSM., VSM.,
Directorate
TN, P & An Dte, Fort St George, Chennai.
Deputy Director General
Commodore Atul Kumar Rastogi
Group
Madurai NCC Group
Group Commander
Col. Sharad Srivastava
Battalion
7 Bn NCC, Madurai
Officer Commanding
Col. Mukul Mukandu

Troop
587 Junior Division Army Wing Troop NCC

Troop Enrolling officer
Mr. D. Ramesh., M.Sc., M.Ed., M.Phil., Headmaster
Troop Commander
First Officer R.Ramakrishnan.M.sc,M.phil.B.Ed

Cadet Strength

| | | |
| --- | --- | --- |
| I Year | II Year | Total |
| 52 | 48 | 100 |

Camps
Combined Annual Training Camp (CATC)
National Integration Camp (NIC)
Trekking Expedition
Cycling Expedition
Advance Leadership Camp (ALC)
Army Attachment Camp
Events
Pulse Polio Rally
Anti Tobacco Rally
Tree Plantation
Environment Pollution Control Rally
Anti Dowry Rally
AIDS Awareness Programme
Training Schedule
40 parade per year @ 2hrs per parade
Annual Range Classification (Firing With .22 Riffle)