NATIONAL CADET CORPS (NAVAL WING NCC)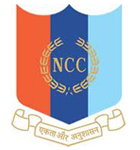 Our Motto : Unity & Discipline
Naval Troop NCC was started in our school in 2017.
Troop Commander Third Officer Karthikeyan B 2017 to till date
Our Aim
1. To Develop Character, Comradeship, Discipline, Leadership, Secular Outlook, Spirit of Adventure, and Ideals of Selfless Service amongst the Youth of the Country.
2. To Create a Human Resource of Organized, Trained and Motivated Youth, To Provide Leadership in all Walks of life and be Always Available for the Service of the Nation.
3. To Provide a Suitable Environment to Motivate the Youth to Take Up a Career in the Armed Forces.
Director General of NCC Lt. Gen. Gurbirpal Singh, AVSM., VSM.,
Directorate
TN, P & An Dte, Fort St George, Chennai.
Deputy Director General
Commodore Atul Kumar Rastogi
Group
Madurai NCC Group
Group Commander
Col Ramesh Santhanam
Unit
2 (TN) NAVAL UNIT NCC, MADURAI
Officer Commanding
Lt.Cdre. VP Senthil
Troop
47 Junior Division Naval Wing Troop NCC
Troop In charge
Mr. D. Ramesh, M.Sc., M.Ed., M.Phil., Headmaster
Troop Commander
Third Officer Karthikeyan B
Cadet Strength

| | | |
| --- | --- | --- |
| I Year | II Year | Total |
| 29 | 21 | 50 |

Camps
Combined Annual Training Camp (CATC)
National Integration Camp (NIC)
Rock Climbing Training Camp (RCTC)
All India Nau Sainik Camp
NCC RDC Camp (New Delhi)
Advance Leadership Camp

Community Developments / Social Activities
Pulse Polio Rally
Anti Tobacco Rally
Tree Plantation
Environment Pollution Control Rally
Anti Dowry Rally
AIDS Awareness Programme

Training Schedule
40 parade per year @ 2hrs per parade
Annual Range Classification (Firing With .22 Riffle)

Special Days
NCC Day Fourth Sunday of November
Navy Day 4th December
Flag Day 7th December